Peanut Butter Mud Slide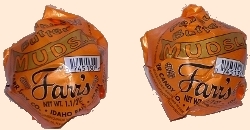 Imagine yummy peanut butter fondant, hand dipped in wonderful milk chocolate and fresh ground peanuts. This new candy confection is sure to please those who love peanuts and peanut butter. Try the new Peanut Butter Mud Slide and you will be quickly convinced this is Real Happiness. Packed 24 candy bars per box.
Please submit order now and pay through PayPal, or call us at (208)522-8215 or send a letter to 250 South Blvd., Idaho Falls, ID 83402.
Thank You
All questions can be directed to farrscandy@gmail.com
This page is copyrighted 2011 Farr Candy Company.

This information may not be duplicated in any form without
express permission from Farr Candy Company.
Online Price
$19.00 per box
$12.00 shipping and handling per box.
(Add $6.00 for each additional box.)
Farr Candy Company