Cherry Cordial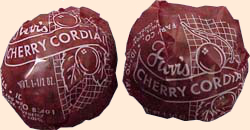 Indulge yourself with premium hand dipped chocolate surrounding a whole cherry nestled in a rich creamy fondant center and gently rolled in fresh roasted peanuts. This individually wrapped gourmet treat has been a hallmark of Farr Candy Company since 1911. Packed 24 candy bars per box.
Please submit order now and pay through PayPal, or call us at (208)522-8215 or send a letter to 250 South Blvd., Idaho Falls, ID 83402.
Thank You
All questions can be directed to
farrscandy@gmail.com
This page is copyrighted 2014 Farr Candy Company.
This information may not be duplicated in any form without
express permission from Farr Candy Company.
Online Price $19.00 per box

$12.00 shipping and handling per box.
(Add $6.00 for each additional box.)
Farr Candy Company