Assorted 24 Count Gift Box
All of our favorites brought together in one sweet lovers delight! You get Cherry Cordials, Huckleberry Cordials, Raspberry Cordials, Peanut Butter Mudslides, Blueberry Blondies, Peanut Cluster Bars, Mallo-Nut Bars and Yellowstone Moose Bars.
Please submit order now through PayPal or call us at (208)522-8215 or send a letter to 250 South Blvd., Idaho Falls, ID 83402. Thank You
All questions can be directed to
farrscandy@gmail.com
This page is copyrighted 2014 Farr Candy Company.
This information may not be duplicated in any form without
express permission from Farr Candy Company.
Online Price $19.00 per box
$12.00 shipping and handling per box.
(Add $6.00 for each additional box.)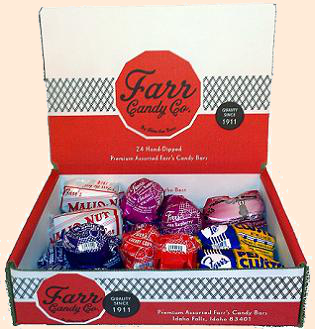 Farr Candy Company